Sir Benson, The Traveling Cat
*This post contains affiliate links for which I may be compensated should a purchase result from a click. This, in no way, affects your cost.
Last weekend, we brought Sir Benson Brunello the First & Only (Benson, for short) to the desert with us while we worked on the WOW WAGON. My goal is to get him acclimated to the traveling since he'll soon be just that, a traveling cat. Benson is a senior fluff ball with a Maine Coon meets Siamese appearance. In the warmer months, his shiny, black and grey coat sheds like his life depends on it. I'm often left happily picking fine, soft strands of his fur out of my eyes and mouth.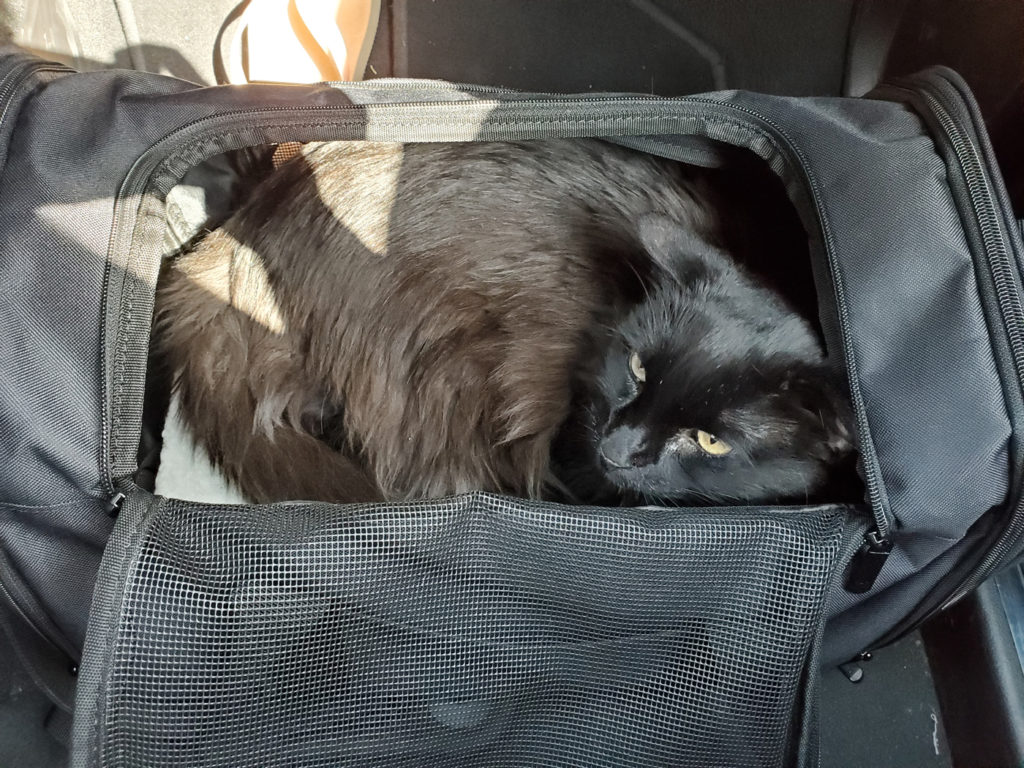 When we adopted Benson this past New Year's Eve, we had no idea we were going to, one day, be living in a school bus. We had no idea that we'd soon be the traveling cat and couple, living a nomadic life. Benson, at thirteen years old, has stiff back legs, creaking and cracking with every cat stretch. During the build, we'll only be bringing him during the weekends where we'll both be gone for more than a day. The furbaby doesn't like to be left alone for long as he loves attention, even from strangers. I, too, don't like to leave him alone for long.
CREATURE COMFORTS FOR THE TRAVELING CAT…AND COUPLE
When Benson travels, we bring along his favorite orange "blankie." These familiar comforts aid in easing some of our traveling cat's anxiety. I did invest in an affordable and great pet cam for when we don't bring him along. It allows me to speak to him from afar and also has night vision. I always position it so that I can see him in all of his favorite spots be it his automatic feeder or lounging in my mama's captain's chair in the living room. The pet feeder is also great, but it only operates in military time. I learned how to read military time quite quickly for those of you who were like me and didn't know how. I especially appreciate its portion control feature. It also has a voice feature that I have yet to use due to some of the reviews claiming that it scared their pets. I'll just stick to speaking through the camera while I'm away.
My goal is to make Benson as comfortable as possible during the build and during the travel. In addition to the cosequin, I've begun administering him CBD oil from Verma Farms. My hope is that the combination will help relieve some of his joint pain.
I know there are other traveling couples and nomadic individuals out there with beloved fur babies and I'd love to hear from you. How do you ease your traveling pet's anxiety and keep them comfortable in unfamiliar territory?