Happily Deserted in Joshua Tree National Park
Being happily deserted in Joshua Tree National Park without unexpected, potentially virus carrying visitors sounded like just my type of getaway. Covid-19 has everyone feeling like a prisoner in their own home. I'm certain I can't be the only one. Going anywhere in public brings on new anxieties for my already anxiety ridden psyche. When I stumbled upon a quirky cabin in the middle of the desert, I couldn't help plan our fourth of July weekend.
While I was in no mood to celebrate America, I was in the mood to celebrate nature and all of its beauty. Joshua Tree National Park is one of the only widely known places I had yet to explore in Southern California, so the fact that said cabin was less than fifteen miles down the road was even more enticing.
AirBnb TO THE RESCUE
Extending our holiday weekend a day early, we began our adventure at Pipe's View. Discovered last minute on Airbnb, we stayed in a lovely, very private Airstream. Parked on the side of someone's property in Yucca Valley, California, it was separated by a privacy fence and complete with outdoor furniture, a picnic table, a hammock, grill and hot tub. It was a pleasant, short two hour drive from Los Angeles. I suppose that's a silver lining in this whole coronavirus fiasco.
If it weren't for the torrential winds, we would have enjoyed an evening underneath the stars, bathing in the hot tub. Instead, I sunbathed topless, vino in hand, for as long as I could stand the winds, overlooking and admiring the glorious desert canyon. In the evening, we enjoyed the comfortable accommodations while I whooped my boyfriend's ass in a couple rounds of cards.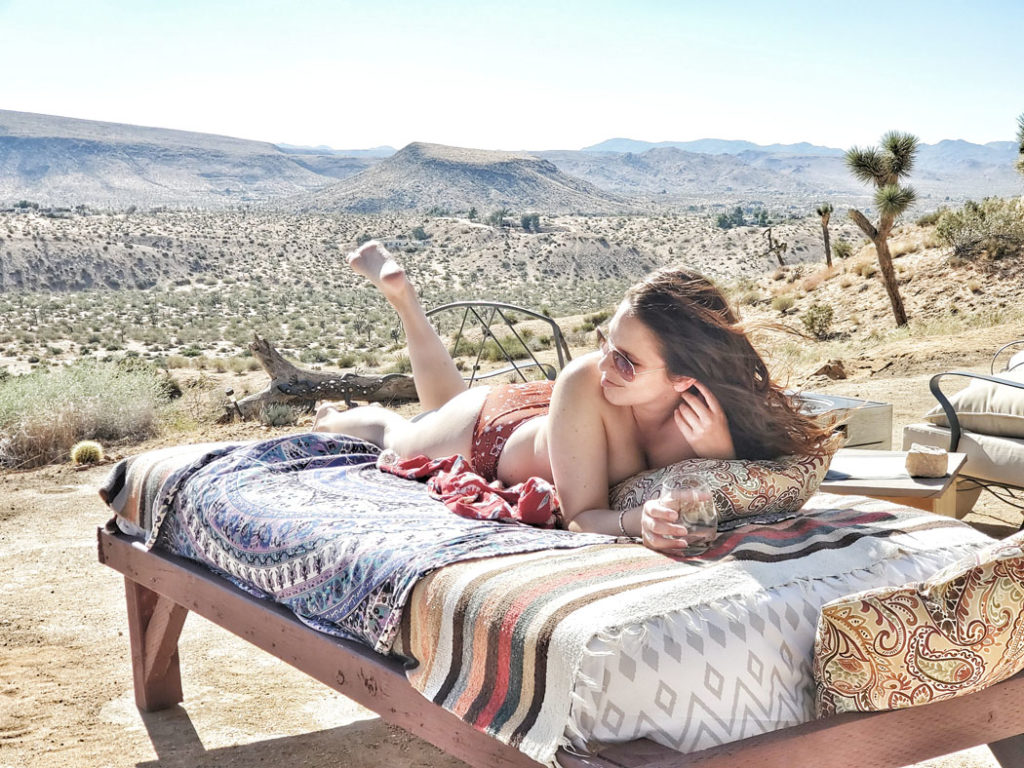 The following morning, our goal was to get up early in case the cabin fever ridden crowd also decided Joshua Tree National Park was a great idea for the holiday weekend. We were at the park entrance by 9am. There were no crowds, no assholes in a rented hummer riding our ass down the two lane forty-five mile per hour roads, and no selfish pricks screaming about their rights. I wasn't expecting the latter but in today's political climate, you just never know!
CACTUS GARDENS OF THE THIRD KIND
Our first destination was Cholla Cactus Garden. There were visibly marked signs designating the 0.2 mile nature trail one way. My anxiety was grateful. The place looked like a totally different planet. Its sometimes towering "teddy bear" cactus and barren vista, while inviting, seemed foreign. Please note, even though these cacti are nicknamed "teddy bear," these are not the huggable kind! I assure you. While there wasn't much reprieve from the hot, desert sun, the trail was easy and flat. Of course, as recommended anywhere, but particularly the desert, bring water.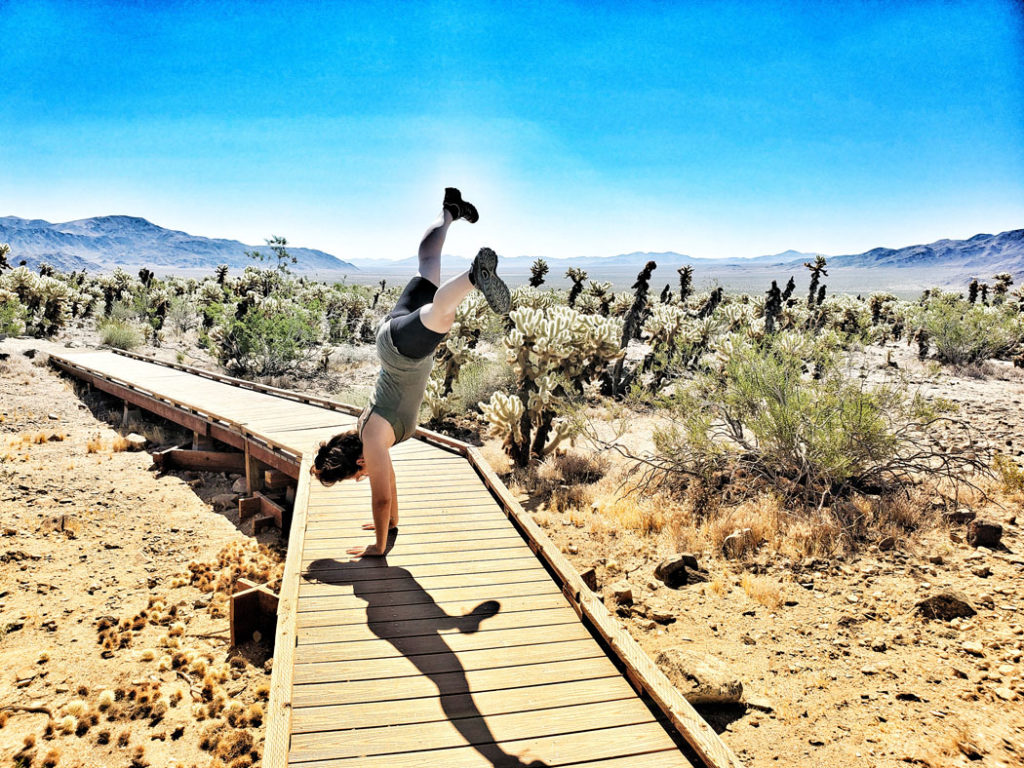 WHEN HUNGER STRIKES IN Joshua Tree NATIONAL PARK
After the cactus garden, we embarked on a 2 mile hike at what is called Split Rock. Located off Park Blvd within the park, the trail was clearly marked "one way." Aside from a handful of hikers who didn't read, there was nearly no one on the trail aside from some aggressive bees. It was a moderately difficult hike with plenty of tangible, rocky uphill climbs. The terrain was spectacular. Giant boulders were framed in a picturesque blue sky while a treeless landscape was splashed in sweltering sunshine. Every arid inch provided a photo-op as my stomach protested in hunger during the last half mile.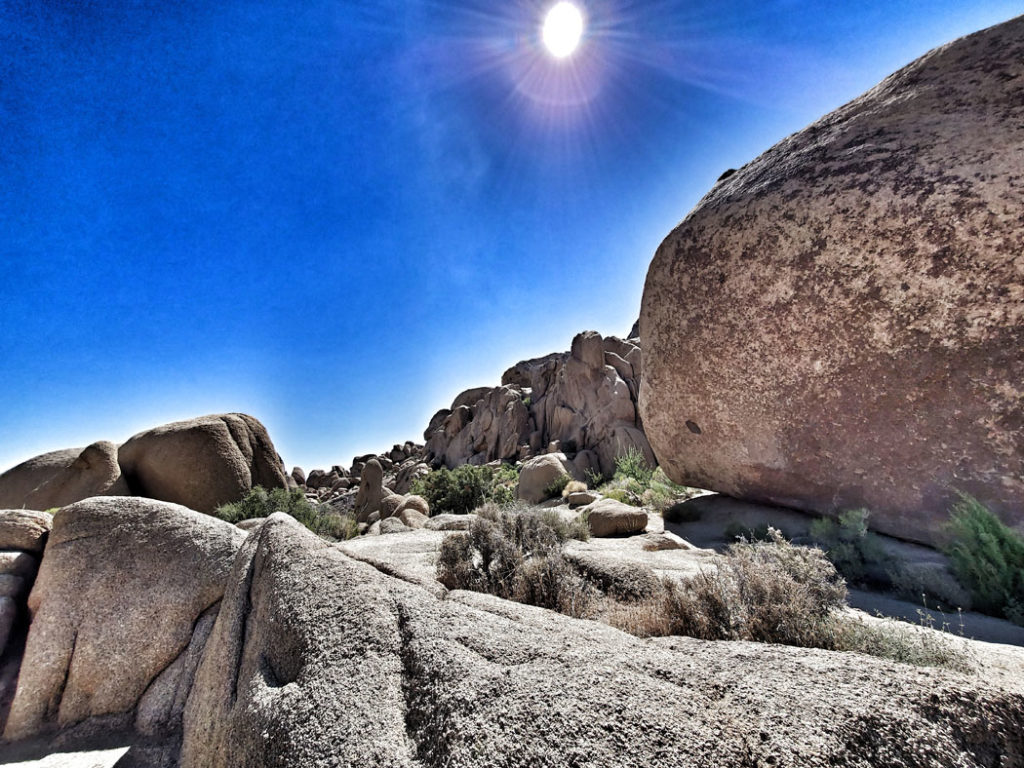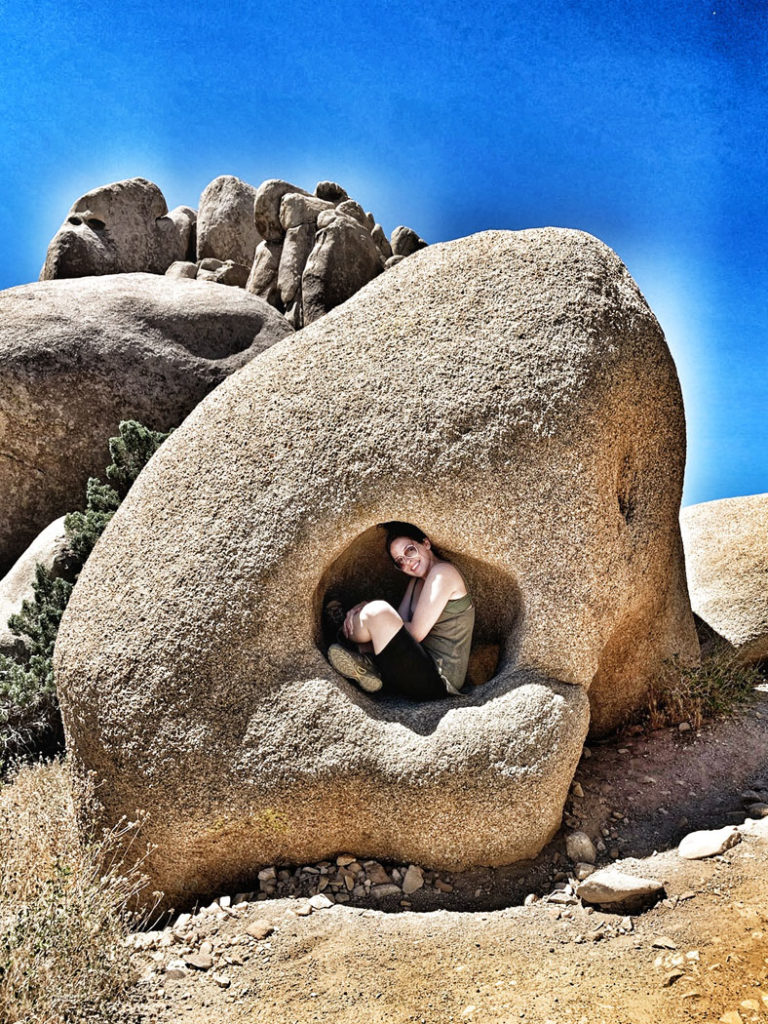 We drove the rest of the length of the park, stopping every few miles to get out and snap photos of the Joshua tree's charming silhouette. Our hunger was cured at the famed Pioneertown's Pappy & Harriet's. We had to wait almost twenty minutes for a table as seating was limited and only outdoors. The wait was well worth it. I had a Caesar salad with grilled salmon. It was the best damned Caesar salad I've ever had, and I half-jokingly said I'm going to drive two hours east every time I crave a Caesar salad. A couple glasses of Sauvignon Blanc quenched my thirst. Post lunch, we made our way to The Dreamweaver, our deserted cabin accommodations for the next couple of nights.